Realign your Digital Brand
Modern websites and services created for today's world
A Real Alignment Website features a cutting-edge design that is continually refreshed – freeing you from of the endless "redesign" cycle every few years. Even better, the design and content is aligned with your other marketing materials including emails, presentations, printed materials, online annual reports and more. This results in a consistent look and message across all channels of your communication.
How do you benefit?
It is everything your organization needs to stand out online and further your strategic initiatives.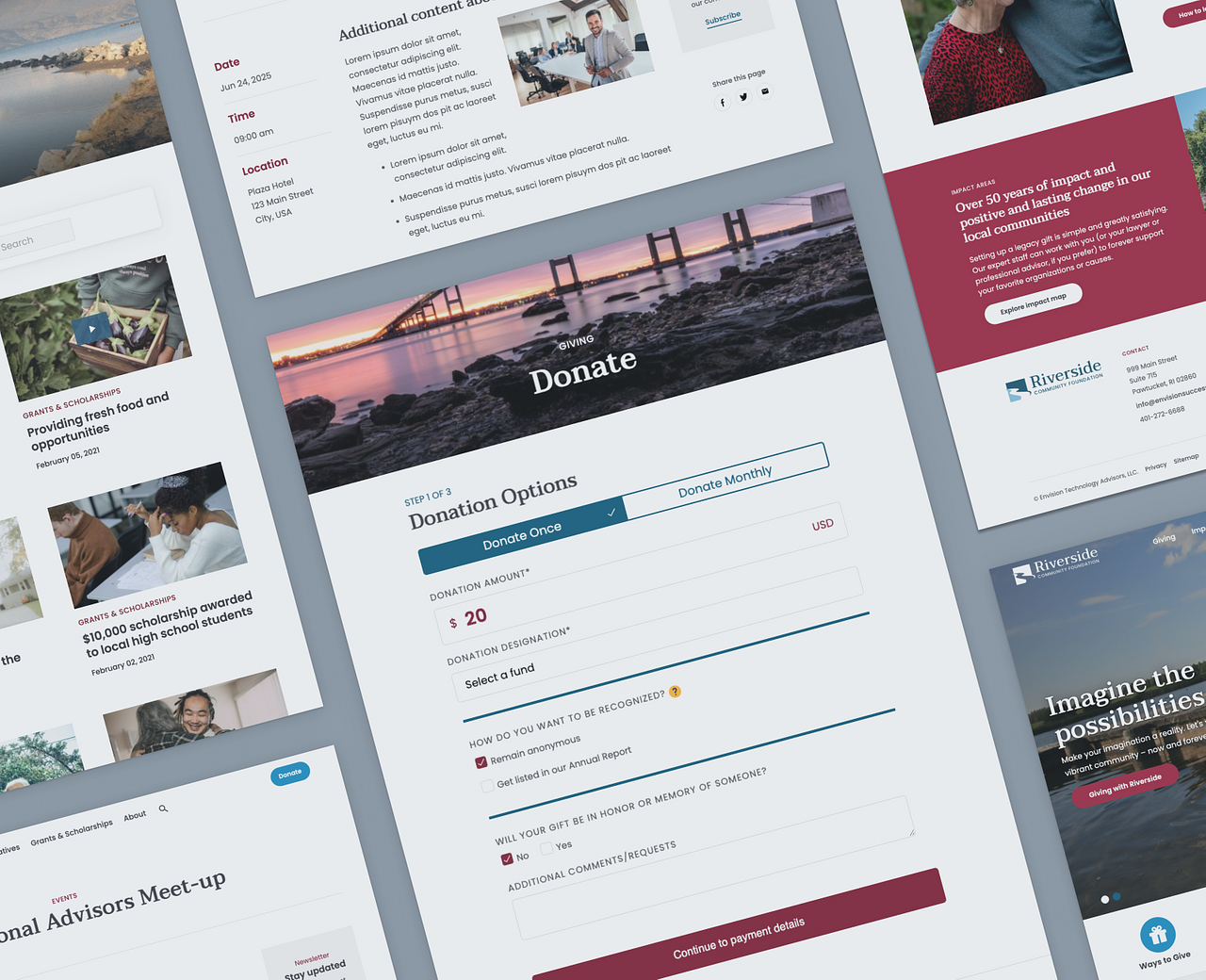 Highlights
Nonstop Design Updates
Receive regular strategy meetings and continuous design refreshes to ensure your site never grows stale or outdated.
Unlimited Support
Forget how to edit something? Did you just hire a new employee who needs training? More than a vendor, we're your partner. We've got your back.
Flexible Content Layouts
Not only will you get a beautiful and user-friendly website design, it's fully customizable to your content needs.
Donation Form
*
Increase your online donations with a powerful, yet simple user-experience for your donors.
Intuitive Directories
*
Battle-tested directories ranging from funds and scholarship to staff and board, we've got you covered.
Stories, Blogs, News & Events
Your website is an important communication vehicle to your audience. Creating new posts from your website is a breeze.
Edit with Ease
A website's design and user-experience is important, but so is your experience. Managing your content should be intuitive and satisfying.

ADA Compliance
Sure, this will protect you from legal action, but more importantly, Your website should be accessible to all users regardless of any disabilities or impairments!
Nonprofit & Foundation Experience
No need to waste time explaining to us what a Community Foundation is or what your Nonprofit stands for. We get you!
Design & Branding Service
Full access to our design services to make sure you have design consistency and alignment across presentation decks, printed materials, online annual reports, and more.
Best-in-class CMS
Our preferred CMS, Craft CMS is a smart, flexible content management system built with a content-first approach.
Security & Hosting
Always up-to-date website security, SSL management, 24/7 website monitoring, nightly backups, and more.

*Feature may not be fully available on the Essential Subscription Plan. Refer to pricing below for details.
Find out how a Real Alignment Website can work for you
Envision Partnerships
What people are saying about Envision's digital and web services
At Envision, our web team has had the incredible opportunity to forge partnerships with foundations and nonprofit all over the country.
"The Envision web team listens to us and always delivers the technology to meet our goals."
"Craft makes it super easy to keep our website fresh and relevant. Updating the site is simple and quick so we can keep our donors and other visitors informed and engaged in our work."
"They helped us mobilize one of our annual events that wouldn't have happened unless it was for Envision."
We have worked with the members of the website design and development team at Envision for more than a decade. The team is professional, creative, and accessible. They have guided us through web re-designs that have resulted in an easily navigated site that expertly serves our various publics.
Subscription Pricing
Plans for organizations large and small
Essential Plan
$850 / month
Recurring design updates, continuous platform versioning and secure hosting
Lifetime design and branding service for all your digital needs
Unlimited support and training
ADA compliance and annual audits
And much more, contact us for details!
Enhanced Plan
$1,250 / month
All Essential Plan features
Custom donation form with recurring donations
Fund, grant, and scholarship directories tailored for community foundations
Recurring strategy sessions with analytic and heatmap reports
Complete content population and ongoing content strategy consulting
Enterprise Plan
Custom Pricing
Need something more?
Get a fully customized website along with unlimited digital and design services – all tailored to your organization's unique needs. Schedule a time to talk with someone from our team to learn more about the possibilities.